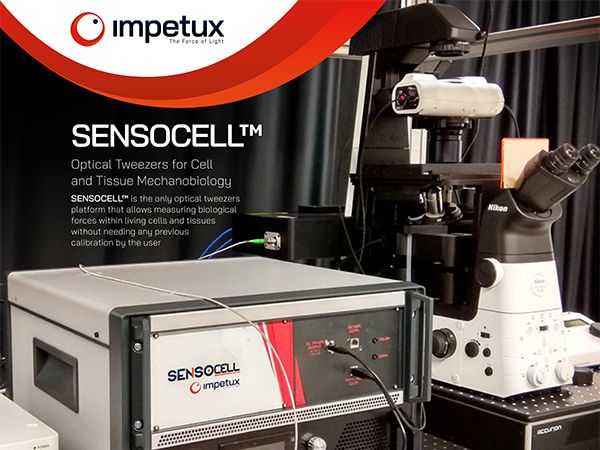 Overview
Impetux is a worldwide key manufacturer and supplier of turnkey optical tweezers systems designed for mechanobiology studies in living cells and 3D tissues. Based on our distinctive and worldwide patented technology, SENSOCELL™ allows manipulating and deforming cells as whole or even endogenous structures such as the cell membrane, the cell nucleus, vesicles and other organelles while tracking the in vivo biological forces involved, even inside living tissues. Discover the insights of the rich world of cell mechanobiology in studies like cell micro-rheology, nucleus mechanotransduction, cell membrane mechanics, molecular motor activity and cell-cell interactions. SENSOCELL™ enables outstanding and unprecedented optical trapping experiences to explore new ways to boost your research.
Link
Japanese web site:
Click here for the Japanese site.
Maker web site:
Click here for the Maker web site.
| Last Updated | Update Information | Size | Download |
| --- | --- | --- | --- |
Frequently Asked Questions