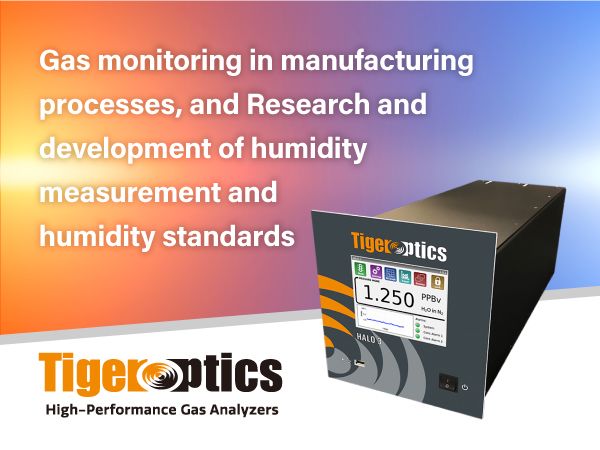 Summary
Based on Cavity Ring-Down Spectroscopy (CRDS), TigerOptics HALO3 series can measure the sub-ppb level of gas species with absolute accuracy, proven reliability, and fast response in one compact and easy-to-use device.
Application
Quality control for laboratory analysis
Gas and chemical manufacturing
R&D of moisture analysis and moisture standard
Features
NIST traceable
High sensitivity, high accuracy, high reliability, high speed of response
Compact, ease of operation, no periodic replacement/maintenance
Analyte: H2O, CO, CO2, CH4, HF, etc.
Gas analysis over a vast range, H2O in N2 : 400ppt~20ppm (HALO KA H2O)
Ethernet, isolated 4-20 mA and RS-232 connectivity
Cavity Ring-Down Spectroscopy(CRDS)
1.A Continuous Wave (CW) diode laser emits a directed beam of light energy through an ultra-high reflective mirror into the absorption cell (cavity).
2.The light reflects back and forth between two ultra-high reflective mirrors multiple times, up to a total path length of 100 kilometers.
3.Once the photodiode detector "sees" a preset level of light energy, the light source is shuttered or diverted from the cavity.
4.On each successive pass, a small amount of light or ring-down signal emits through the second mirror and is sensed by the light detector.
5.Once the light "rings down", the detector achieves a point of zero light energy in milliseconds, and the measurement is complete.

Fig 1. Ring-Down Cavity Cell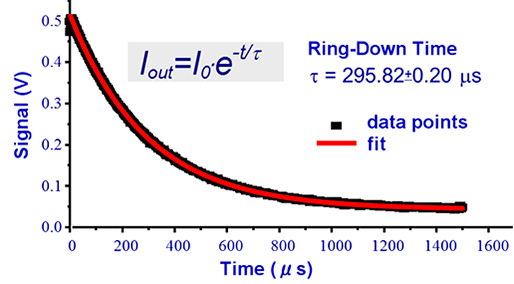 Fig 2. Ring-Down Time
Performance
Operating range
See table below
Detection limit(LDL,24h peak-to-peak variation)
See table below
Sensitivity(3σ)
See table below
Precision(1σ,greater of)
± 0.75 % or 1/3 of Sensitivity
Accuracy(greater of)
± 4 % or 1/2 of LDL
Speed of response
See table below
Environmental conditions
10℃~40℃
30%~80% RH(non-condensing)
Storage temperature
-10℃~50℃
Gas Handling System and Conditions
Wetted materials
316L stainless steel (Optional Hastelloy)
10 Ra surface finish
Gas connections
1/4" male VCR inlet and outlet
Inlet pressure
10~125 psig (1.7~9.6 bara)
Flow rate
0.05~1.8 slpm (gas dependent)
Sample gases
Most inert、toxic、and、passive matrices
Gas temperature
Up to 60 ℃
Dimensions and Weight
Standard sensor
H×W×D [in (mm)]
8.75×8.5×23.6 (222×216×599)
Sensor rack
H x W x D [in (mm)]
8.75×19×23.6 (222×483×599)
(fits up to two sensors)
Weight,Standard sensor
28 lbs (12.7 kg)
Electrical
Alarm indicators
2 user programmable
1 system fault
Form C relays
Power requirements
90~240VAC
50/60Hz
Power consumption
40 Watts max.
Signal output
Isolated 4-20mA persensor
User interfaces
5.7"LCD touchscreen
10/100Base-TEthernet
802.11gWireless(optional)
RS-232
HALO KA H2O
Analyte
Range
LDL
Sensitivity
Speed of response
H2O in N2
0~20ppm
400ppt
300ppt
3 min to 95 %
H2O in He
0~4ppm
200ppt
60ppt
H2O in Ar
0~9ppm
200ppt
130ppt
H2O in O2
0~16ppm
300ppt
200ppt
H2O in H2
0~10ppm
200ppt
150ppt
HALO 3Q H2O
Analyte
Range
LDL
Sensitivity
Speed of response
H2O in N2
0~20ppm
0.8ppb
0.6ppb
3 min to 95 %
H2O in He
0~4ppm
0.25ppb
0.12ppb
H2O in Ar
0~9ppm
0.4ppb
0.3ppb
H2O in O2
0~16ppm
0.6ppb
0.4ppb
H2O in H2
0~10ppm
0.4ppb
0.3ppb
HALO 3 H2O
Analyte
Range
LDL
Sensitivity
Speed of response
H2O in N2
0~20ppm
1.5ppb
1.2ppb
3 min to 95 %
H2O in He
0~4ppm
0.3ppb
0.25ppb
H2O in Ar
0~9ppm
0.7ppb
0.6ppb
H2O in O2
0~16ppm
1.2ppb
1.0ppb
H2O in H2
0~10ppm
0.9ppb
0.7ppb
HALO 3 H2O 500
Analyte
Range
LDL
Sensitivity
Speed of response
H2O in N2
0~500ppm
10ppb
8ppb
3 min to 95 %
H2O in He
0~125ppm
5ppb
4ppb
H2O in Ar
0~200ppm
8ppb
6ppb
H2O in O2
0~400ppm
8ppb
6ppb
H2O in H2
0~250ppm
10ppb
8ppb
Other HALO3 series
| Model/Analyte | Range※ | LDL※ | Sensitivity※ | Speed of response |
| --- | --- | --- | --- | --- |
| HALO3 CO/CO | 0~2000ppm | 100ppb | 70ppb | 1min to 90 % |
| HALO3 CO2 Low range/CO2 | 0~12ppm | 10ppb | 7ppb | 3min to 95 % |
| HALO3 CO2 High range/CO2 | 0~1500ppm | 300ppb | 250ppb | 1min to 90 % |
| HALO3 CH4/CH4 | 0~8ppm | 2.0ppb | 1.6ppb | 3min to 95 % |
| HALO3 HF/HF | 0~5ppm | 0.5ppb | 0.4ppb | 1min to 90 % |
※In N2 gas
| Last Updated | Update Information | Size | Download |
| --- | --- | --- | --- |
Frequently Asked Questions