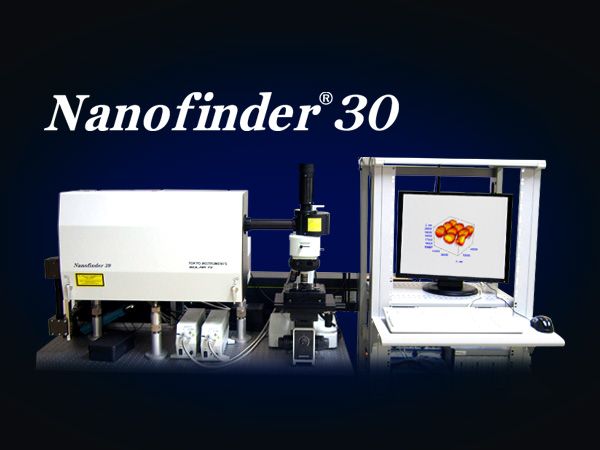 Overview
Nanofinder®30 is a Raman Confocal spectroscopy device with high sensitivity and high spatial resolution. It can do 3D Raman imaging with lateral spatial resolution of 200 nm and axial resolution of 500 nm. Moreover, combined with Scanning Probe Microscope (SPM), it can perform simultaneously measured Raman and Topography Imaging. With Tip Enhanced Raman Scattering (TERS) technology it can obtain lateral resolution of 50 nm or less. With UV excitation, it is ideal for Si device stress distribution measurement.
"Large Area Scan option" – Fast mapping of big samples
・Raman mapping with step motor stage of millimeter, centimeter or even larger scanning area.
・Fast scan by synchronized constant speed sample movement and data collection.
・Easy switching between point scan and fast scan.
・Combinable with "Line Scan" option.
※Stepping motor stage is required for this scan option.
Application example 1: Large test grid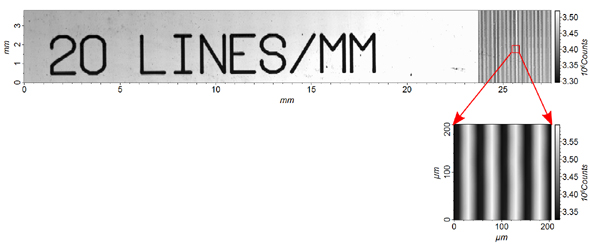 Size: 27.5 mm X 3.85 mm
Number of spectra: 218,827 (2,751x77)
Mapping time: ~25 min  (~7.2 ms/point)
Application example 2: Pharmaceutical tablet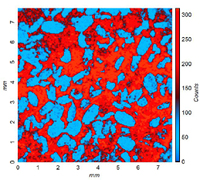 Raman intensity Image of
Aspirin (blue) and Paracetamol (red)
distribution.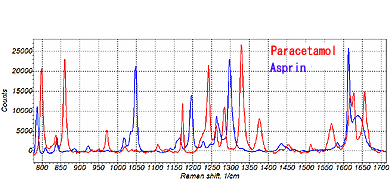 Aspirin and Paracetamol spectra,
40xNA0.6, exposure 1 min
Size: 7.75 mm X 7.75 mm
Number of spectra: 24,025 (155x155)
Mapping time: 50 min (~125 ms/point)
General Specifications
● Spatial resolution(typ.)
| Wavelength (nm) | Numerical aperture (N.A.) | XY direction (nm) | Z direction (nm) |
| --- | --- | --- | --- |
| 364 | 1.4(oil immersion) | 130 | 330 |
| 488 | 1.4(oil immersion) | 200 | 500 |
| 488 | 0.9 | 250 | 520 |
| 532 | 0.9 | 275 | 560 |
| 633 | 0.9 | 320 | 660 |
| 785 | 0.9 | 390 | 800 |
Sensitivity: Measuring 4th order of Si Raman within 1 minute / point (@488 nm, 5 mW laser power)
Wavenumber range:50cm-1~5000cm-1(depending on excitation laser)
Wavenumber resolution:0.5cm-1~20cm-1(@1.5CCD pixel)
Control: Automatic control of all optical components by PC
Vibration isolation: Air spring type table
Microscope
Upright / Inverted (selectable)
CCD camera for optical image
Optics(selectable)
Installed optics: Polarization optics (excitation/detection channel),
Automatic wavelength calibration, Edge filters (changeable to Notch filters)
Selectable optics for :
UV - visible
Visible - NIR
NIR
Imaging Spectrometer
Focal length: 52 cm
Grating: up to 4 pieces (automatic switchable)
Grating selection (G/mm): 150, 200, 300, 600, 1200, 1800, 2400, 2800, Echelle
Slit width: 0 to 1.5 mm (motorized)
Number of exit ports: 2 (can be equipped with two types of detectors)
Stray light removal ratio: 1×10-5
Piezo Stage
Travel Range: XY: 100 μm (300 μm available) Z: 100 μm (300 μm available)
Position repeatability: <30 nm, closed loop
Stage load capacity: Up to 1 kg
Motor stage or Motor Stage/Piezo Stage combined mounting possible
Galvano Scanner (optional)
Travel Range: XY: 100 μm (100× microscope objective) 250 μm (40× microscope objective)
Detector
Thermoelectric cooled CCD: 1024 × 128 pixel (26 μm/pixel) (choose from UV, visible and NIR types)
APD (Avalanche Photodiode)
PMT (Photomultiplier Tube)
Excitation Laser (selectable)
325 nm, 364 nm, 442 nm, 458 nm, 488 nm, 514 nm, 532 nm, 633 nm, 785 nm
Computer / Software for control and analysis
Control system is stored in a rack
Full control of spectrometer, slit, filters, polarizers and other optics
Laser switching mirror (up to 3 lasers)
2D ・ 3D image rotation, slice at arbitrary position
Display of Raman spectrum
Automatic Wavenumber calibration
Baseline correction
Curve fitting: Selectable spectrum database analysis software
Additional Options
Heating / cooling: -180℃ to 600℃ (device dependent)
High temperature stage
Time-resolved measurement: Streak camera, TCSPC (time-correlated single photon counting)
Near-field Raman
| Last Updated | Update Information | Size | Download |
| --- | --- | --- | --- |
Frequently Asked Questions