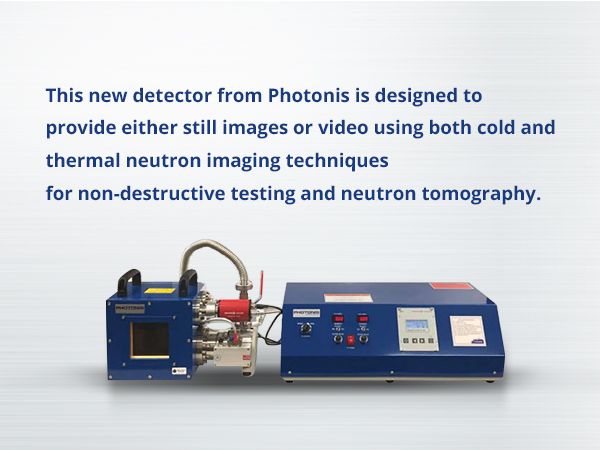 Overview
Neutron imaging is a non-destructive method used to see inside objects that may be inpenetrable by X-ray or other techniques. Neutrons off er the benefi t of being able to see through heavy metals such as lead but can also be used to examine delicate processes.

The Neutronic [i] combines a 100x100 mm² neutron sensitive Microchannel Plate with a fast phosphor screen to maximize spatial resolution and sensitivity and to also provide a large fi eld of view. Additionally, the Neutronic [i] is paired with your choice of camera, including our own Nocturn CMOS camera, to bring to the surface what lies beneath, making this system ideal for all non-destructive testing applications.

Process neutron images faster with this new high-resolution detection system from Photonis.
Specification of Neutron Imager NEUTRONIC [i]
| | |
| --- | --- |
| Imaging Resolution | 50µm |
| Electron Gain @ 1000 Volts | >1000 |
| Dark Counts at Gain Voltage | <0.1counts/second/cm2MAX |
| Vacuum Base Pressure | <1E-6Torr |
| Last Updated | Update Information | Size | Download |
| --- | --- | --- | --- |
Frequently Asked Questions